Macrometa GDN Search is a full-text search engine that supports key values, documents, and graphs as data models. Compared to a full-text index, Macrometa Search is more configurable and customizable, combining Boolean and generalized ranking retrieval techniques to refine your search results. All Boolean-approved results are ranked by relevance to the respective query using the Vector Space Model in conjunction with BM25 or TF-IDF weighting schemes.
GDN Search is equipped with a state-of-the-art indexing and search facility that enables users to perform sophisticated search operations on multi-model data storage including key-value pairs, documents, and graphs. You do not need to reformat data to make it compatible with GDN search.
Features​
GDN Search provides the following capabilities:
Complex searches with Boolean operators
Relevance-based matching
Phrase and prefix matching
Custom ranking and relevance tuning
Configurable analyzers and tokenization
Retrieval of both documents and projections of documents
Combinable search queries with multiple supported data models & access patterns
Geo-replicated search indexes for instant results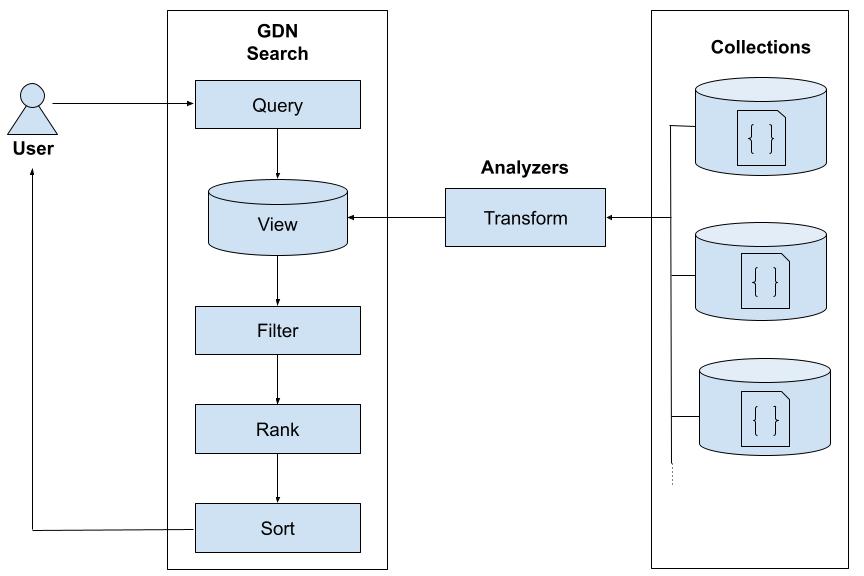 Views and Analyzers​
We provide search views and analyzers that boost the efficiency of your search queries:
A search view is a virtual collection that provides fast full-text searching over multiple linked collections.

An analyzer parses input values and transforms them into sets of sub-values for the following use cases:

Tokenization (splitting text into words and normalizing them).
Language-specific word stemming.
Case conversion.
Removal of diacritical (accent) marks.
Queries​
GDN Search features are integrated into C8QL as a SEARCH operation and a set of C8QL functions. Some use cases include:
Perform federated full-text searches over product descriptions in a web shop with product documents stored in collections.
Retrieve information in a research database and rank it by relevance based on term frequency (TF-IDF) using case and accent insensitive stemmed phrases with irrelevant terms filtered out.
Query a data set of movies for titles with words in a particular order and optional wild cards. Sort the results by best matching (BM25) but favor movies with longer duration.